Fish's View of Light and "Stars"
Bill Baggs Cape Florida State Park, Key Biscayne, Florida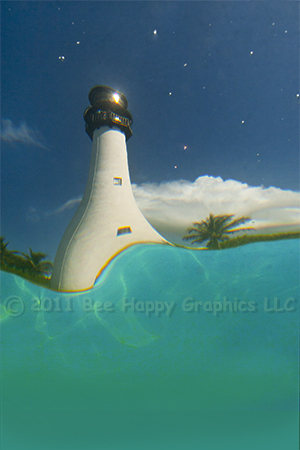 Nancy took this picture while we were snorkeling around the lighthouse trying to get over-and-under shots. She sank five feet to sit on the bottom and aim her camera toward the surface. The weather was almost calm, with small waves just big enough to distort the image. In this picture it looks like the lighthouse is lit, but that is really the early morning sun reflecting off the glass. What appears to be stars are really small bubbles or particles floating on the surface, also lit by the sun. These features were indeed serendipitous.
For different perspectives on Cape Florida Lighthouse, check out our other images:
Fish's View of Lighthouse
Snorkeler at the Lighthouse
Cape Florida Lighthouse
A Light Unto Your Path

To order a print of this image, hit the button to the left. Before you do, you may want to check the maximum size estimates or what's currently in stock below. Each item in stock has its own order button.
Photographic details: Canon EOS 30D camera w/ EF 20mm f/2.8 USM lens in Aquatica housing. Camera was on f/11 for 1/2000 sec at ISO 400.
| Print details: maximum size | Medium | Printed | Estimated |
| --- | --- | --- | --- |
| | Fine Art Paper | 15" x 11" | 181/2" x 13" |
| | Canvas | N/A | 241/2" x 17" |
Currently In Stock
Although we can print to your specifications any size up to the above limits to the nearest 1/16" with any mat and moulding combinations, the below prints are available immediately:
Print Number
Description
Price (includes sales tax & shipping)
Matted:
#3
matted 15"x11" print, white mat (outside 20"x16")
$96
Framed:
#1
framed 14"x11", white oval mat, black frame (outside 231/2"x201/2")
$195
#2
framed 14"x11", white oval mat, black frame (outside 231/2"x201/2")
$195