Cape Florida Lighthouse v2
Bill Baggs Cape Florida State Park, Key Biscayne, Florida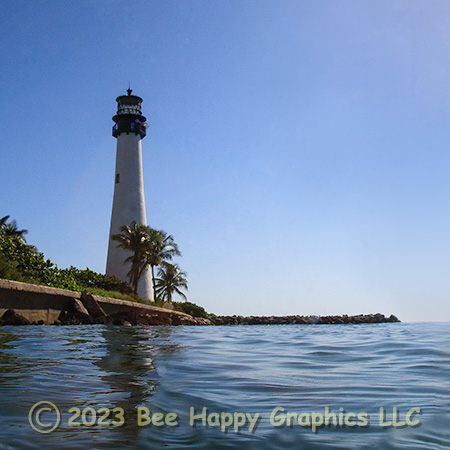 For this image, Nancy was swimming with her camera in an underwater housing. This is the fourth of the photographs Nancy captured on that day to be added to our collection (see Fish's View of Lighthouse, Fish's View of Light and Stars, and Snorkeler at Cape Florida Light).
This shows the lighthouse from the perspective of it's intended users, although most of them would be at least six nautical miles (or seven statute miles) offshore. This lighthouse apparently wasn't very effective at keeping ships off of the reef. When 30 years old, its height was increased almost 50%, and after 23 more years it was replaced by Fowey Rocks Light, built in about ten feet of water 5½ nautical miles southeast by south. For 30% of its 53 years it was not operational due to the ravages of war.
For other perspectives on this lighthouse, see Cape Florida Lighthouse, A Light Unto Your Path, or Cape Florida Lighthouse and Cottage.
Photographic details: Canon EOS 30D camera w/ EF 20mm f/2.8 USM lens in Aquatica 30D Housing w/ 8" Dome Port. Flash was not used. At ISO 400, camera was set on Auto mode, resulting in 1/1250 second exposure and an aperture of f/16. Exposure was increased another 1.5 stops in post-processing.
To order a print of this image, hit the button to the left. Before you do, you may want to check the maximum size estimates or what's currently in stock below. Each item in stock has its own order button.
| Print details: maximum size | Medium | Printed | Estimated |
| --- | --- | --- | --- |
| | Fine Art Paper | N/A | 81/2" x 81/2" |
| | Canvas | N/A | 16" x 16" |
Variations
We printed one variation (shown to the right), which is cropped to use ⅝ of the image horizontally to fit a special edition notecard in portrait modeAnnounced.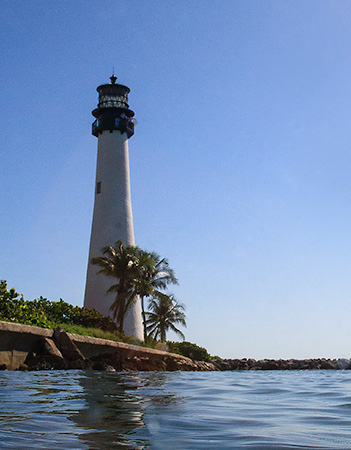 Currently In Stock
Although we can print to your specifications any size up to the above limits to the nearest 1/16" with any mat and moulding combinations, we presently have none of these in stock.