Cape Florida Lighthouse and Cottage
Bill Baggs Cape Florida State Park, Key Biscayne, Florida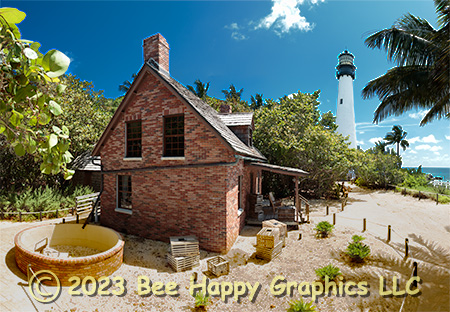 This image is actually a composite of 21 images (roughly in an array of five rows of between three and six photographs) that Nancy took from the top of our 12-foot step ladder.
This replica of the lighthouse keeper's quarters, as it existed after 1852, was constructed three years after the State of Florida bought the property in 1966. For more information on this cottage, see this article from The Historical Marker Database.
For other views of this lighthouse and more information, check out:
Fish's View of Lighthouse,
Fish's View of Light and Stars,
Snorkeler at Cape Florida Light,
Cape Florida Lighthouse (v2),
Cape Florida Lighthouse, or
A Light Unto Your Path.
Photographic details: Canon EOS 7D Mark II camera w/ EF 16-35 f/2.8 L USM autofocus lens set at 23mm. Flash was not used. At ISO 400, camera was set on manual mode for 1/125 second and an aperture of f/14. Twenty-one of Nancy's photographs that were taken over a 6.5 minute period were combined in Photoshop.
To order a print of this image, hit the button to the left. Before you do, you may want to check the maximum size estimates or what's currently in stock below. Each item in stock has its own order button.
Print details: maximum size
Medium
Printed
Estimated
(In-house)
Fine Art Paper
N/A
40" x 58"
Canvas
N/A
60" x 87"O
(371/2" x 54")
Variations
We printed one variation (shown to the right), which is cropped to use 56% of the image horizontally to fit a special edition notecard in portrait modeAnnounced.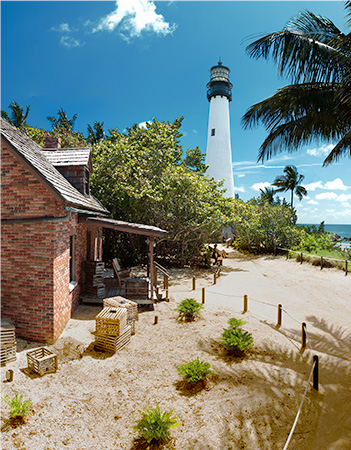 Currently In Stock
Although we can print to your specifications any size up to the above limits to the nearest 1/16" with any mat and moulding combinations, we presently have none of these in stock.
Although the resolution and sharpness of the image should allow for this, we would need to send an image this size somewhere else to get it printed. Our printer can print up to 44" across, meaning that practically, we can print an image on paper up to 431/2". On canvas, we could only go to 371/2", to make room for wrapping the edges. Thus our in-house size limit for this image is shown above in parentheses.