Silverback
Volcanoes National Park, Rwanda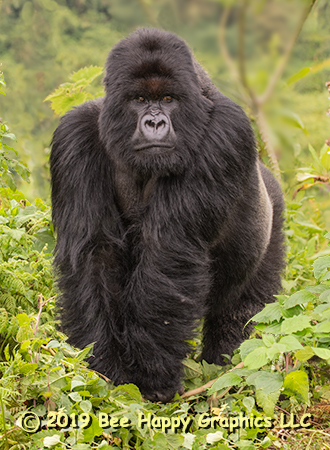 This should be Charles, leader of the Umubano (meaning "live together") group consisting of thirteen members, including two silverbacks. This is one of ten groups in Rwanda habituated to humans. Each of these gorilla groups is restricted to just one hour of human contact per day.
Male Mountain Gorillas grow to about 5½ feet when standing on their hind feet and could weigh over 440 pounds. They might eat 75 pounds of vegetation a day. Males leave their home group when about eleven years old and may travel with an all-male group for a few years before attracting females to join him in a new group. these groups have between five and thirty members, with an average of ten. Sixty percent of groups have only one silverback, and the average reign of a silverback in charge of a group is less than five years.
For more information about the Umubano group and other mountain gorillas,
see Mountain Gorilla Family and Mountain Gorilla Mother and Baby.
For related information, check out the following blog posts:
We just got back from a two-week trip to Africa
A Case Of Over-planning On Our Africa Trip?
Our Second Biannual Caption Contest

Photographic details: Canon EOS 7D Mark II camera w/ EF 100-400mm f/4.5-5.6L IS USM lens set at 100mm. Flash was not used. Camera was set for f/6.3 on aperture priority with -1/3 stop exposure compensation, resulting in a shutter speed of 1/320 sec at ISO 500.
To order a print of this image, hit the button to the left. Before you do, you may want to check the maximum size estimates or what's currently in stock below. Each item in stock has its own order button.
| Print details: maximum size | Medium | Printed | Estimated |
| --- | --- | --- | --- |
| | Fine Art Paper | 15" x 11" | 28" x 21" |
| | Canvas | N/A | 44" x 32" |
Currently In Stock
Although we can print to your specifications any size up to the above limits to the nearest 1/16" with any mat and moulding combinations, the below prints are available immediately:
Print Number
Description
Price (includes sales tax & shipping)
Matted:
#1
matted 15"x11" print, black mat (outside 20"x16")
$90
Framed:
unnumberedM
framed 7"x5" print, black mat, special mocha walnut frame (outside 141/2"x103/4")
$46
Prints below a certain size are not part of our numbering system and will not be numbered and signed (although Nancy has signed other images upon request). This includes our Photo Note Cards and Small Matted Prints. Our current policy is explained in the Prints section of our Products page.