Mountain Gorilla Mother and Baby
Volcanoes National Park, Rwanda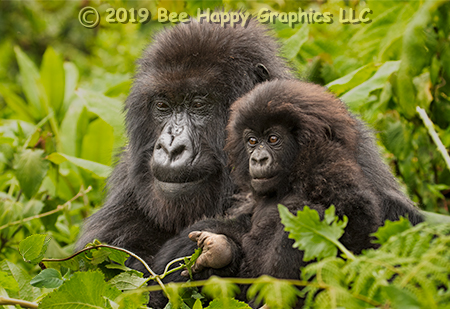 These gorillas were part of the Umubano (meaning "live together") group consisting of thirteen members including their leader, Charles, and one other silverback. This is one of ten groups in Rwanda habituated to humans. Each of these gorilla groups is restricted to just one hour of human contact per day.
Female mountain gorillas grow to over 4½ feet, standing on their hind legs, and can weigh up to 220 pounds. They might eat as much as 40 pounds of vegetation each day. About 60% of females will leave their natal groups, usually when about eight years old, and may transfer from group to group several times before settling down with a dominant silverback for life. They start giving birth when around ten years old and then every four years after that. Babies weigh around four pounds after a gestation of less than nine months. They can crawl within nine weeks but are not weaned for 3½ years.
For more of this family, see Mountain Gorilla Family.
For their leader, see Silverback.
For related information, check out the following blog posts:
We just got back from a two-week trip to Africa
A Case Of Over-planning On Our Africa Trip?
Our Second Biannual Caption Contest

Photographic details: Canon EOS 7D Mark II camera w/ EF 100-400mm f/4.5-5.6L IS USM lens set at 120mm. Flash was not used. Camera was set for f/6.3 on aperture priority, resulting in a shutter speed of 1/320 sec at ISO 640.
To order a print of this image, hit the button to the left. Before you do, you may want to check the maximum size estimates or what's currently in stock below. Each item in stock has its own order button.
| Print details: maximum size | Medium | Printed | Estimated |
| --- | --- | --- | --- |
| | Fine Art Paper | 11" x 16" | 14" x 22" |
| | Canvas | N/A | 22" x 34" |
Currently In Stock
Although we can print to your specifications any size up to the above limits to the nearest 1/16" with any mat and moulding combinations, the below prints are available immediately:
Print Number
Description
Price (includes sales tax & shipping)
Matted:
#2
matted 11"x15" print, black mat (outside 16"x20")
$92
Framed:
#1
framed 11"x16", black inside off-white mats, black frame (outside 19"x22")
$205