Mountain Gorilla Family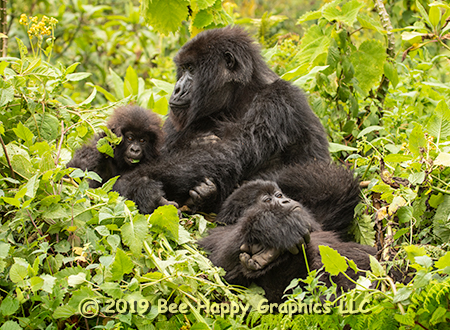 These gorillas were part of the Umubano (meaning "live together") group consisting of thirteen members including their leader, Charles, and one other silverback. This is one of ten groups in Rwanda habituated to humans. Each of these gorilla groups is restricted to just one hour of human contact per day.
Mountain Gorillas are critically endangered with a population of around one thousand members. They are one of two subspecies of the Eastern Gorilla (the other subspecies being the Grauer's Gorilla (formerly the Eastern Lowland Gorilla), which has a population about four times as large). The other species of gorilla is the Western Gorilla, virtually all of the 95,000 members of which are of the subspecies Western Lowland Gorilla (there are less than 300 Cross River Gorillas). Only the chimpanzee and the bonobos are more closely related to humans (sharing more of our DNA).
Mountain Gorillas live at an elevation of between 8,000 and 13,000 feet in a home range of from one square mile up to 16 square miles. Although very strong, these gorillas are generally gentle and shy. They are highly social, living in stable groups of up to thirty members. More than 85% of their diet consists of leaves, shoots, and plant stems. They live about 35 years.
For a close-up of the baby, see Mountain Gorilla Mother and Baby.
For their leader, see Silverback.
For related information, check out the following blog posts:
We just got back from a two-week trip to Africa
A Case Of Over-planning On Our Africa Trip?
Our Second Biannual Caption Contest

Photographic details: Canon EOS 7D Mark II camera w/ EF 100-400mm f/4.5-5.6L IS USM lens set at 100mm. Flash was not used. Camera was set for f/6.3 on aperture priority with -1/3 stop exposure compensation, resulting in a shutter speed of 1/320 sec at ISO 400.
To order a print of this image, hit the button to the left. Before you do, you may want to check the maximum size estimates or what's currently in stock below. Each item in stock has its own order button.
| Print details: maximum size | Medium | Printed | Estimated |
| --- | --- | --- | --- |
| | Fine Art Paper | 11" x 15" | 21" x 26" |
| | Canvas | N/A | 33" x 40" |
Currently In Stock
Although we can print to your specifications any size up to the above limits to the nearest 1/16" with any mat and moulding combinations, the below prints are available immediately:
Print Number
Description
Price (includes sales tax & shipping)
Matted:
#1
matted 11"x15" print, black mat (outside 16"x20")
$92