Purple Gallinule (Porphyrio martinicus)
Tobago
June 21, 2012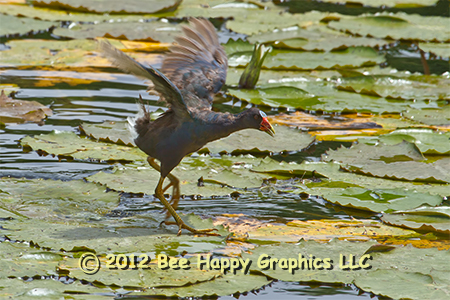 Nancy took this image on on a 10-day trip led by Brian Rapoza for the Tropical Audubon Society to Trinidad and Tobago.
In the United States, Purple Gallinules live only in the southeastern Atlantic and Gulf coastal states, but only breed on the Florida peninsula. Their range also includes both coasts of Mexico, as well as Central America and the Caribbean. In South America, the get as far south as northern Argentina. But they have been seen far from their normal range in places like California, the Galapagos Islands, Iceland, Great Britain, and Tierra del Fuego. They will be found in fresh-water marshes with dense vegetation.
Purple Gallinules are a medium-sized rail, being 10 to 15 inches long with a wing span of up to two feet. Males are about 20% heavier than females, but adults all look the same. They are omnivouous, but do eat more plant material than animals. Although they are not terretorial individually, a nesting pair will defend up to 2½ acres. They often nest in the same areas as Common Gallinuleswebpage, where the Common Gallinule dominates them.
Photographic details: Canon EOS 7D camera w/ EF 100-400mm f/4.5-5.6L IS USM lens set at 400mm. Camera was on f/9.5 for 1/500 sec at ISO 200. Exposure was increased 1 stop in post-processing.
To order a print of this image, hit the button to the left. Before you do, you may want to check the maximum size estimates below.
| Print details: maximum size | Medium | Printed | Estimated |
| --- | --- | --- | --- |
| | Fine Art Paper | N/A | 10" x 15" |
| | Canvas | N/A | 18" x 271/2" |
Currently In Stock
Since this is not part of our regular fine art collection, we do not generally keep these in stock, and presently have none immediately available. As a special order, we can print to your specifications any size within the above limits to the nearest 1/16" with any mat and moulding combinations. To order, hit the above "Order Now" button and fill in as much information as is appropriate.