Common Moorhen Feeding Chick
Green Cay Wetlands, Palm Beach, Florida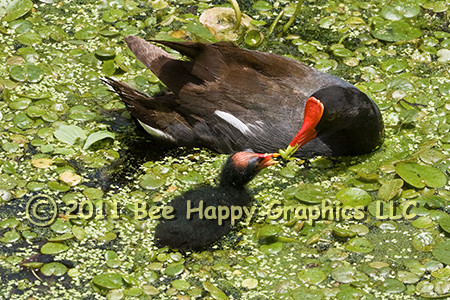 In 2011, this bird was split from the common moorhen (Gallinula chloropus) into its own species and is now called the common gallinule (Gallinula galeata). It took a few years for everybody to get the word. There are still four subspecies of the original common moorhen, all living in the old world.
We were on an expedition to Wakodahatchee Wetlands and Green Cay Wetlands, both man-made wetlands and water reclamation facilities for the county, and both wonderful spots for photographing birds. In mid-July, there were plenty of common gallinule chicks like this one, as well as the young of many other species. Although sometimes it appeared that an older sibling would care for the babies, this one was sticking close to its parent.
Photographic details: Canon EOS 30D camera w/ EF 100-400mm f/4.5-5.6L IS USM lens set at 210mm. Flash was not used. Camera was set for f/13 on aperture priority, resulting in a shutter speed of 1/640 sec at ISO 800.
To order a print of this image, hit the button to the left. Before you do, you may want to check the maximum size estimates or what's currently in stock below. Each item in stock has its own order button.
| Print details: maximum size | Medium | Printed | Estimated |
| --- | --- | --- | --- |
| | Fine Art Paper | 11" x 14" | 111/2" x 16" |
| | Canvas | N/A | 121/2" x 18" |
Currently In Stock
Although we can print to your specifications any size up to the above limits to the nearest 1/16" with any mat and moulding combinations, we presently have none of these in stock.