White-winged Becard (Pachyramphus polychopterus)
Trinidad
June 19, 2012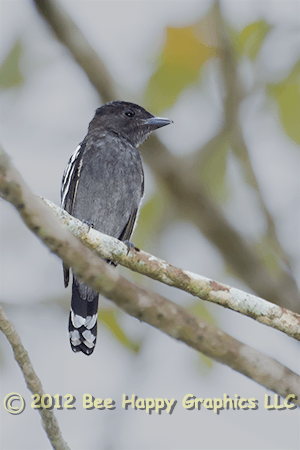 Nancy took this image while on a trip led by Brian Rapoza for the Tropical Audubon Society to Trinidad and Tobago.
White-winged Becards are found throughout Central America and in South America east of the Andes and as far south as Buenos Aires. They live on the edges of mature forests and in second growth at elevations below 1,500 feet, and in mangroves. Look for them at the mid-level of the trees. They eat caterpillars, leafhoppers, spiders, and small berries.
Becards are medium-sized birds with rather flat heads, similar to flycatchers. They are about five inches long, weighing less than an ounce. They are geographically variable in appearance. At the north end of their range, males are gray with black cap and back. In the Amazon basin the are mostly black, overall. Females have pale yellowish underparts. Males have apparently been confused with the completely unrelated Variable Antshrike, which is found only at the southern end of the becard range.
The White-winged Becard has eight subspecies, some of which may eventually turn out to be different species.
Photographic details: Canon EOS 7D camera w/ EF 100-400mm f/4.5-5.6L IS USM lens set at 400mm. Camera was on f/6.7 for 1/500 second at ISO 400.
To order a print of this image, hit the button to the left. Before you do, you may want to check the maximum size estimates below.
| Print details: maximum size | Medium | Printed | Estimated |
| --- | --- | --- | --- |
| | Fine Art Paper | N/A | 7" x 5" |
| | Canvas | N/A | 13" x 81/2" |
Currently In Stock
Since this is not part of our regular fine art collection, we do not generally keep these in stock, and presently have none immediately available. As a special order, we can print to your specifications any size within the above limits to the nearest 1/16" with any mat and moulding combinations. To order, hit the above "Order Now" button and fill in as much information as is appropriate.