Smooth-billed Ani (Crotophaga ani)
Trinidad
June 19, 2012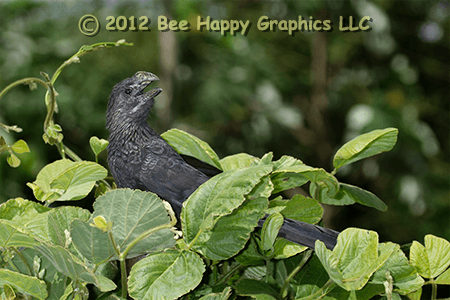 Nancy took this image while on a trip led by Brian Rapoza for the Tropical Audubon Society to Trinidad and Tobago.
This is a medium-sized (about 13-inch long), flat-black bird with a long tail and thick upper bill. These birds live in wet, tangled scrub or thorny habitat near open fields or marshes in the tropics of South America (getting as far south as northern Argentina) and the Caribbean. There is also a small and declining population here in South Florida.
Smooth-billed Anis do everything in groups of up to five breeding pairs. The females even lay their eggs in the same communal nest and all members incubate the eggs and care for the young. They feed mostly on the ground, eating insects and lizards, and in the dry season they add fruit to their diet. While foraging, one member sits on a high perch and acts as a lookout for danger.
Photographic details: Canon EOS 7D camera w/ EF 100-400mm f/4.5-5.6L IS USM lens set at 135mm. Off-camera flash was used. Camera was on f/6.7 for 1/500 sec at ISO 200.
To order a print of this image, hit the button to the left. Before you do, you may want to check the maximum size estimates below.
| Print details: maximum size | Medium | Printed | Estimated |
| --- | --- | --- | --- |
| | Fine Art Paper | N/A | 81/2" x 13" |
| | Canvas | N/A | 231/2" x 22" |
Currently In Stock
Since this is not part of our regular fine art collection, we do not generally keep these in stock, and presently have none immediately available. As a special order, we can print to your specifications any size within the above limits to the nearest 1/16" with any mat and moulding combinations. To order, hit the above "Order Now" button and fill in as much information as is appropriate.