Sparring Polar Bears
Churchill, Manitoba, Canada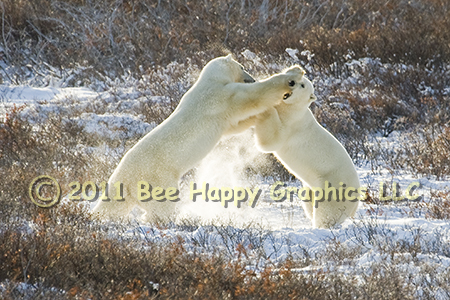 Were these two bears to meet on the ice, it probably wouldn't be friendly. When they are forced to congregate around Churchill, however, the normally solitary animals can be rather sociable with each other. These two bears are just play fighting. Their bouts don't last long, as both bears overheat easily in the 'sweltering' heat. The temperature when we were there was in the mid twenties, the normal November temperature is in the teens, and out on the ice during the winter it can get below minus thirty degrees Fahrenheit.
For more images and information about this encounter, see Polar Bear Encounter.
To order a print of this image, hit the button to the left. Before you do, you may want to check the maximum size estimates or what's currently in stock below. Each item in stock has its own order button.
Photographic details: Canon EOS 30D camera w/ EF 100-400mm f/4.5-5.6L IS USM lens set at 400mm. Flash was not used. Camera was on f/7.1 for 1/800 sec (shutter priority with +2/3-stop exposure compensation) at ISO 400.
| Print details: maximum size | Medium | Printed | Estimated |
| --- | --- | --- | --- |
| | Fine Art Paper | 31/2" x 5" | 71/2" x 111/2" |
| | Canvas | N/A | 10" x 15" |
Currently In Stock
Although we can print to your specifications any size up to the above limits to the nearest 1/16" with any mat and moulding combinations, we presently have none of these in stock.