Life Cycle of Monarch Butterfly
South Miami, Florida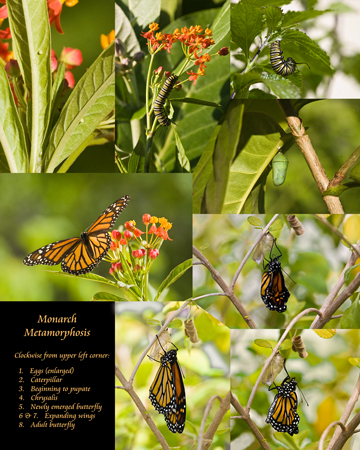 In our back yard, Nancy captured images throughout the life cycle of the Monarch Butterflies (Danaus plexippus). It starts with an egg on milkweed. That lasts about four days. The five instars (or molts) of the larval stage last for about fourteen days to when the caterpillar moves off the milkweed and attaches itself to some fairly rigid, inconspicuous object (they can travel ten to twenty feet from the milkweed to do this). After pupating, the pupa spends ten to fourteen days inside the chrysalis (closer to fourteen here in Florida because of our climate). Every day the chrysalis becomes a little darker, starting as a nice lime green with gold trim, as in the fourth image, and becoming steadily darker until it becomes completely black. The next morning the butterfly emerges. The adult will last usually two to six weeks. The fourth generation of the year, born in September, will live six months so they can last through the migration. Here in South Florida we have a resident population that does not migrateinfo.
For more information on monarch butterflies, check out:
Pupating Monarch, which shows the transition between the 3rd and 4th images,
Emerging Monarch, which shows the transition between the 4th and 5th images, and
Monarch Butterfly On Tropical Milkweed, which is the 8th image in this group.
For information on the life cycle of other butterflies, check out:
Atala Butterfly, which describes Nancy's Atala image, and
Giant Swallowtails, which describes their life cycle and compares to other butterflies, and
Zebra Heliconian Butterflies, which discusses Nancy's photograph of Florida's state butterfly.
rev: 8/2019
To order a print of this image, hit the button to the left. Before you do, you may want to check the maximum size estimates or what's currently in stock below. Each item in stock has its own order button.
Photographic details: Eight images were taken over 100 days. All used Canon EOS 30D camera w/ EF 100-400mm f/4.5-5.6L IS USM lens.
| Image | Flash? | Focal length | Program | Aperture | Shutter | ISO |
| --- | --- | --- | --- | --- | --- | --- |
| Egg | No | 400mm | Shutter priority | f/10 | 1/1600 sec | 800 |
| Caterpiller | No | 375mm | Shutter priority | f/18 | 1/250 sec | 800 |
| Begin to pupate | No | 400mm | Shutter priority | f/5.6 | 1/320 sec | 100 |
| Chrysalis | No | 400mm | Shutter priority | f/14 | 1/640 sec | 800 |
| Newly emerged | No | 400mm | Aperture priority | f/5.6 | 1/500 sec | 400 |
| Expanding wings | No | 400mm | Aperture priority | f/5.6 | 1/800 sec | 400 |
| Still expanding | Yes | 400mm | Aperture priority | f/5.6 | 1/250 sec | 100 |
| Adult | No | 320mm | Shutter priority | f/8 | 1/1250 sec | 800 |
Print details: maximum size
Medium
Printed
Estimated
(In-house)
Fine Art Paper
20" x 16"
51" x 41"
Canvas
N/A
68" x 54"S
(47" x 371/2")
Currently In Stock
Although we can print to your specifications any size up to the above limits to the nearest 1/16" with any mat and moulding combinations, the below prints are available immediately:
Print Number
Description
Price (includes sales tax & shipping)
Mounted:
(#2)S
mounted 20"x16" print (outside 20"x16")
$90
Framed:
#1
framed 20"x16", black mat with step corners, regular glass, black frame (outside 271/2"x231/2")
$291