Emerging Monarch
South Miami, Florida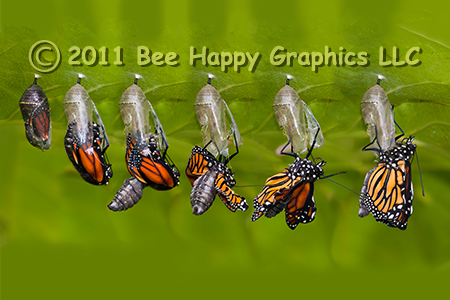 A sequence of six photographs of the same butterfly was put together for this image. It shows a monarch butterfly (Danaus plexippus) emerging from its chrysalis. These photographs were taken in our own back yard. It is not strictly a time-lapse series; the images are not taken at equal intervals. Nancy was holding the camera, snapping away, and managed to capture more than six photographs. Then she picked the images that best showed the progression. While this sequence shows the first four minutes after the butterfly starts to emerge (and the fifth picture was taken less than fifty seconds after it began), it could take over two hours before the butterfly is ready to fly. It takes time to pump all of the extra fluids in the abdomen through the wings to straighten them and get them ready for flight.
To order a print of this image, hit the button to the left. Before you do, you may want to check the maximum size estimates or what's currently in stock below. Each item in stock has its own order button.
Photographic details: Canon EOS 30D camera w/ EF 100-400mm f/4.5-5.6L IS USM lens set at 400mm. Flash was used. Camera was on f/8 for between 1/125 and 1/160 sec at ISO 400.
| Print details: maximum size | Medium | Printed | Estimated |
| --- | --- | --- | --- |
| | Fine Art Paper | 11" x 20" | 16" x 27" |
| | Canvas | 18" x 36" | 24" x 48" |
Currently In Stock
Although we can print to your specifications any size up to the above limits to the nearest 1/16" with any mat and moulding combinations, the below prints are available immediately:
Print Number
Description
Price (includes sales tax & shipping)
Matted:
#20
matted 10"x16", black inside "Soft Green" mats (outside 16"x20")
$98
#39
matted 10"x16", black mat (outside 16"x20")
$82
#42
matted 10"x16", off-white mat (outside 16"x20")
$82
Framed:
#3N
Paper
framed 10"x18" print, black inside granite mats, "stainless steel" moulding (outside 20"x28")
$214
#19
framed 10"x18" print, black inside off-white mats, espresso walnut moulding (outside 20"x28")
$214
Canvas:
#26 & #34
gallery-wrapped canvas 18"x36"x11/2"
$443
#37, #38, & #40
gallery-wrapped canvas 11"x20"x3/4"
$199
We used to have a different numbering system for prints on fine art paper than for print on canvas, as described in our blog post We've Changed Our Numbering System Again. For Emerging Monarch, the consolidated numbering system began at #16 (after 7 paper prints and 8 canvas prints had been made).