Burrowing Owls
Brian Piccolo Sports Park, Cooper City, Florida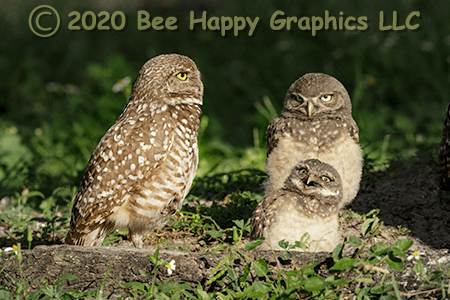 This image was captured a couple hours after sunrise in a park in Broward County. In the nest were the two parents and three chicks, although one of the chicks was definitely not a "morning person" (unlike other owls, although considered nocturnal, Burrowing Owls are often active during the day, especially during breeding season. They still avoid the mid-day sun). The owl on the left is one of the parents; the other two aren't. The other parent is just off camera in the shadows to the right.
Burrowing owls (Athene cunicularia) are considered endangered or threatened in some areas. They live in dry grasslands. In the western U.S, they have a large range, extending north in the winter to Canada's southern prairie provinces down to northern Mexico and from eastern California east to central Texas and through the Dakotas. In the summer, that crowd almost completely abandons the United States in their migration to Mexico and beyond. The only Burrowing Owls east of the Mississippi River are in a resident population right here on the Florida peninsula (and the Bahamas (A. c. floridana). There is another of the 16 sub-species in Cuba and other sub-species in parts of the Caribbean). There is also a large range of non-migrating Burrowing Owls in the southern half of South America.
These birds are not sexually dimorphic (meaning the males and females look alike). Adults have various spots and bars on the lower front; juvenile fronts are plain. Florida owls usually dig their own burrows, which may be six to ten feet long with the nest chamber at the end. Our owls typically lay 4 - 6 white eggs (western birds lay about 3 more than that). They are incubated only by the mom for almost 30 days, and then she continues to care for them while the dad brings food. In Florida, chicks usually appear in mid to late March. After another ten days or so, the female begins helping with the family hunting also. Four weeks after hatching, the chicks can make short flights and begin wandering from the nest. The parents will continue to feed them for up to three months.
For more information, check out Burrowing Owls - Our Newest Addition (including the comment section).

Photographic details: Canon EOS 7D Mark II camera w/ EF 100-400mm f/4.5-5.6L IS USM lens set at 400mm. Flash was not used. At ISO 400, camera was set for f/11 on aperture priority, resulting in a shutter speed of 1/400 sec.
To order a print of this image, hit the button to the left. Before you do, you may want to check the maximum size estimates or what's currently in stock below. Each item in stock has its own order button.
| Print details: maximum size | Medium | Printed | Estimated |
| --- | --- | --- | --- |
| | Fine Art Paper | 11" x 15" | 16" x 24" |
| | Canvas | 17" x 24" | 231/2" x 35" |
Currently In Stock
Although we can print to your specifications any size up to the above limits to the nearest 1/16" with any mat and moulding combinations, the below prints are available immediately:
Print Number
Description
Price (includes sales tax & shipping)
Matted:
#7
matted 11"x15" print, black mat (outside 16"x20")
$85
Canvas:
#3
gallery-wrapped 17"x24"x11/2"
$345
#6
gallery-wrapped 17"x24"x11/2" with 30° bevel (outside 181/2"x251/2")
optimal (illusion) viewing distancedefined 35"
$371
#4 & #5
gallery-wrapped 123/4"x17"x3/4"
$204