Savanna Hawk (Buteogallus meridionalis)
Aripo Livestock Station, Trinidad
June 16, 2012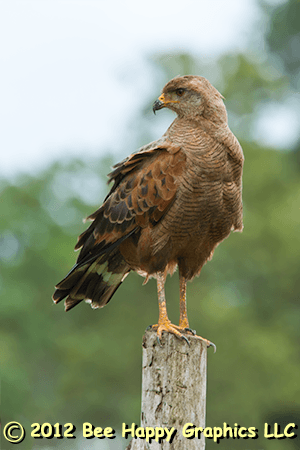 Nancy took this image while on a trip led by Brian Rapoza for the Tropical Audubon Society to Trinidad and Tobago.
This is a large raptor (18 to 24" long, 30 ounces) with strikingly long legs. It is found in open savanna and swamp edges, breeding from Panama and Trinidad south to Bolivia, Uruguay, and central Argentina.
Savanna Hawks feed on small mammals, lizards, snakes, crabs, and large insects. They build nests of sticks lined with grass in palm trees, and lay a single egg.
Photographic details: Canon EOS 7D camera w/ EF 100-400mm f/4.5-5.6L IS USM lens and EF 1.4x II extender set at 520mm. Off-camera flash was used. Camera was on f/11 for 1/125 second at ISO 200.
To order a print of this image, hit the button to the left. Before you do, you may want to check the maximum size estimates below.
| Print details: maximum size | Medium | Printed | Estimated |
| --- | --- | --- | --- |
| | Fine Art Paper | N/A | 141/2" x 91/2" |
| | Canvas | N/A | 27" x 18" |
Currently In Stock
Since this is not part of our regular fine art collection, we do not generally keep these in stock, and presently have none immediately available. As a special order, we can print to your specifications any size within the above limits to the nearest 1/16" with any mat and moulding combinations. To order, hit the above "Order Now" button and fill in as much information as is appropriate.