White-tailed Nightjar (Hydropsalis cayennensis)
Little Tobago Island, Tobago
June 22, 2012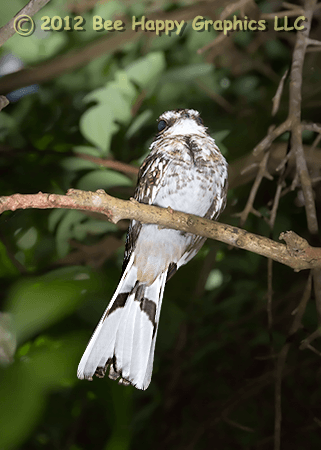 Nancy took this image while on a trip led by Brian Rapoza for the Tropical Audubon Society to Trinidad and Tobago.
The White-tailed Nightjar is a small nightjar. Males and females have different plumage. This is a male. Males have high contrast from above and are pale and possibly mottled underneath. Their undertail is solid white with a clearly-visible dark band near the base. The female's overall pattern is cryptic. Their underparts, while similar to the male's, is darker, and they are typically barred on the breast. Their undertail is barred, not plain white. These birds are frequently misidentified as a Common Pauraque (Nyctidromus albicollis).
Nightjars, as the name implies, are strictly nocternal. The White-tailed Nightjar's habitat is open grassy or shrubby areas from Costa Rica across northern South America. A single bird is usually found sitting on the ground at night, flying up to catch insects.
Photographic details: Canon EOS 7D camera w/ EF 100-400mm f/4.5-5.6L IS USM lens set at 220mm. Off-camera flash was used. Camera was on f/9.5 for 1/2000 second at ISO 800.
To order a print of this image, hit the button to the left. Before you do, you may want to check the maximum size estimates below.
| Print details: maximum size | Medium | Printed | Estimated |
| --- | --- | --- | --- |
| | Fine Art Paper | N/A | 16" x 111/2" |
| | Canvas | N/A | 30" x 21" |
Currently In Stock
Since this is not part of our regular fine art collection, we do not generally keep these in stock, and presently have none immediately available. As a special order, we can print to your specifications any size within the above limits to the nearest 1/16" with any mat and moulding combinations. To order, hit the above "Order Now" button and fill in as much information as is appropriate.