Trinidad Piping Guan (Pipile pipile)
Trinidad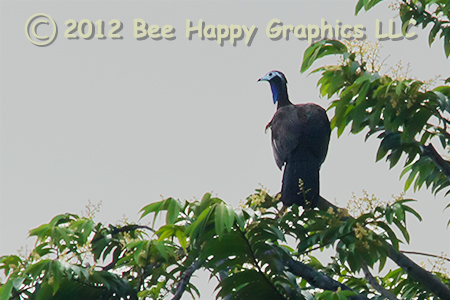 This Piping Guan is endemic to Trinidad and is critically endangered, with between 100 and 200 remaining, due to overhunting. Locally, they are known as Pawi. They are large, like turkeys, being almost 24" high and are arboreal, meaning they live mostly in trees. This photograph was taken while on a Tropical Audubon Society birding trip to Trinidad and Tobago led by Brian Rapoza. The bird was about 90 yards away, requiring Nancy's longest lens with a 1.4x extender (and extensive cropping).
Photographic details: Canon EOS 7D camera w/ EF 100-400mm f/4.5-5.6L IS USM lens and EF 1.4x II extender set at 560mm. Flash was not used. Camera was on f/11 for 1/500 sec at ISO 800.
To order a print of this image, hit the button to the left. Before you do, you may want to check the maximum size estimates below.
| Print details: maximum size | Medium | Printed | Estimated |
| --- | --- | --- | --- |
| | Fine Art Paper | N/A | 6" x 9" |
| | Canvas | N/A | 81/2" x 13" |
Currently In Stock
Since this is not part of our regular fine art collection, we do not generally keep these in stock, and presently have none immediately available. As a special order, we can print to your specifications any size within the above limits to the nearest 1/16" with any mat and moulding combinations. To order, hit the above "Order Now" button and fill in as much information as is appropriate.