Rufous-vented Chachalaca (Ortalis ruficauda)
Tobago
June 22, 2012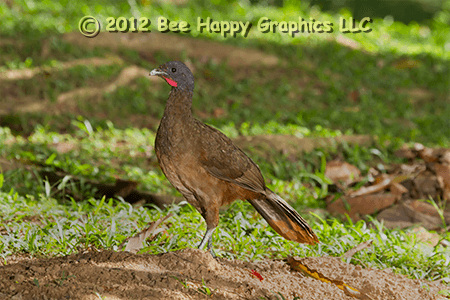 Nancy got this image while on a trip led by Brian Rapoza for the Tropical Audubon Society to Trinidad and Tobago.
Chachalacas have been compared to turkeys. The Rufous-vented Chachalaca is a medium-sized bird (males about 22.5 oz, females around 19 ounces) about 22 inches long. The live mostly in the tree canopy and can be very noise, especially at dawn. Because fruit is a large part of their diet, they are given credit for regenerating forests.
This bird inhabits northeast Columbia, northern Venezuela, and Tobago. The country of Trinidad & Tobago has two national birds. The Roufous-vented Chachalaca represents Tobago, while the Scarlet Ibis represents Trinidad.
Photographic details: Canon EOS 7D camera w/ EF 100-400mm f/4.5-5.6L IS USM lens set at 250mm. Flash was used. Camera was on f/6.7 for 1/1000 sec at ISO 800.
To order a print of this image, hit the button to the left. Before you do, you may want to check the maximum size estimates below.
| Print details: maximum size | Medium | Printed | Estimated |
| --- | --- | --- | --- |
| | Fine Art Paper | N/A | 17" x 26" |
| | Canvas | N/A | 25" x 38" |
Currently In Stock
Since this is not part of our regular fine art collection, we do not generally keep these in stock, and presently have none immediately available. As a special order, we can print to your specifications any size within the above limits to the nearest 1/16" with any mat and moulding combinations. To order, hit the above "Order Now" button and fill in as much information as is appropriate.