Common Black Hawk (Buteogallus anthracinus)
Asa Wright Nature Centre, Trinidad
June 16, 2012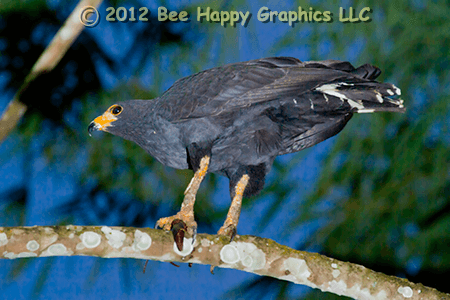 Nancy took this picture while on a trip led by Brian Rapoza for the Tropical Audubon Society to Trinidad and Tobago.
This hawk is eating a land crab. Crabs are their favorite, but they also eat other crustaceans, fish, frogs, snd lizards. In the United States, there may be as many as 250 breeding pairs in the arid Southwest, nesting 30 to 100 feet up in trees along permanently-flowing streams not subject to humsn disturbance. Their range extends down both the Atlantic and Pacific coasts of Mexico and Central America and the north coast of South America from Ecuador east into Guyana (including Trinidad), where they can also be found in lowland forests and mangroves.
These hawks are 17 - 21 inches long, weighing just over two pounds. Both sexes look similar.
One former subspecies, the Cuban Black Hawk, has been determined to be a distinct species (Buteogallus gundlachi), while the Mangrove Black Hawk, formerly Buteogallus subtilis, is now considered a subspecies of the Common Black Hawk (B.a. subtilis).
Photographic details: Canon EOS 7D camera w/ EF 100-400mm f/4.5-5.6L IS USM lens set at 400mm. Off-camera flash was used. Camera was on f/8 for 1/125 sec at ISO 800. Exposure was increased 2 stops in post-processing.
To order a print of this image, hit the button to the left. Before you do, you may want to check the maximum size estimates below.
| Print details: maximum size | Medium | Printed | Estimated |
| --- | --- | --- | --- |
| | Fine Art Paper | N/A | 14" x 21" |
| | Canvas | N/A | 26" x 39" |
Currently In Stock
Since this is not part of our regular fine art collection, we do not generally keep these in stock, and presently have none immediately available. As a special order, we can print to your specifications any size within the above limits to the nearest 1/16" with any mat and moulding combinations. To order, hit the above "Order Now" button and fill in as much information as is appropriate.