Sandhills On A Stroll
Circle B Bar Reserve, Lakeland, Florida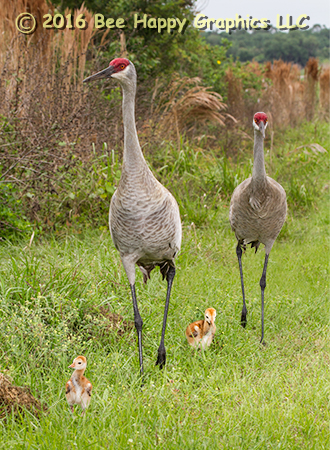 This image of a new Sandhill Crane family (Grus canadensis pratensis) was taken in late March at Circle B Bar Reserve. We learned about this reserve from visitors to our booth at a nearby art festival (and it is where Nancy saw her first bobcat).
We were on a long narrow stretch of trail when we spotted this family ahead. Nancy gave them as wide a berth as possible as she moved to get in front of them and then kneeled several yards ahead to set up a shot. In no time she had to get up and move further ahead because these sandhills weren't dawdling. This process had to be repeated several times.
In another example of how we learn from our visitors, we had a framed version of this image hanging in our booth when a lady asked Nancy if she knew how old these chicks were. Nancy, being born, raised, and living in Miami, which is south of the Sandhill Crane's range, was not intimately familiar with their life history even though we have seen plenty of Sandhill Cranes on our travels throughout the state. She guessed the chicks were maybe two weeks old. Turns out they are only about two days old. Apparently the chicks hit the deck running and grow fast.
Sandhill Cranes mate for life and start breeding when between two and seven years old. They live around twenty years. Females usually lay two eggs, but typically only one nestling survives to fledge. Juveniles will be with their parents up to ten months.
rev: 7/2020
For different views that include Sandhill Cranes, check out these images:
Sandhill Cranes and
Whooping Crane with Sandhill Cranes.
Photographic details: Canon EOS 7D camera w/ EF 100-400mm f/4.5-5.6L IS USM lens set at 115mm. Flash was used off camera (as described in the last paragraph of this blog post). Camera was on f/11 for 1/125 sec at ISO 250.
To order a print of this image, hit the button to the left. Before you do, you may want to check the maximum size estimates or what's currently in stock below. Each item in stock has its own order button.
| Print details: maximum size | Medium | Printed | Estimated |
| --- | --- | --- | --- |
| | Fine Art Paper | 16" x 11" | 25" x 17" |
| | Canvas | N/A | 36" x 24" |
Currently In Stock
Although we can print to your specifications any size up to the above limits to the nearest 1/16" with any mat and moulding combinations, the below prints are available immediately:
Print Number
Description
Price (includes sales tax & shipping)
Matted:
#27
matted 15"x11", York (tan) mat (outside 20"x16")
$88
#29
matted 15"x11", red inside white mats (outside 20"x16")
$110
Framed:
#17
framed 16"x11" print, black inside gray mats, conservation non-glare glass, dark brown driftwood (outside 241/4"x191/4")
$244
#22
framed 16"x11" print, gray mat with black core, conservation non-glare glass, blue driftwood (outside 241/4"x191/4")
$231
Canvas:
#20
gallery-wrapped canvas 24"x16"x11/2"
$318
#28
gallery-wrapped 24"x16"x11/2" with 30° bevel (outside 251/2"x171/2")
optimal (illusion) viewing distancedefined 35"
$342
#25 & #26
gallery-wrapped canvas 18"x12"x3/4"
$204