White Rhinoceros
Lake Nakuru National Park, Kenya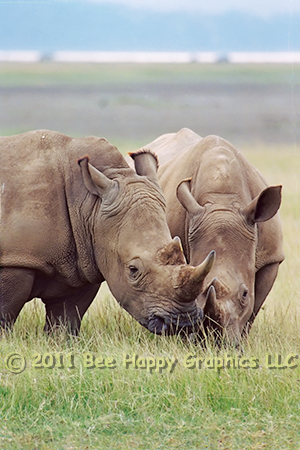 We spent two weeks in Kenya as part of a month-long tour with Cheeseman's Ecology Safaris. This animal's name should actually be "wide" rhinoceros, referring to its lip. The white rhino is a grazer of short grasses, compared to the black rhino, which has a pointed upper lip more suitable for browsing the leaves of trees and bushes. Both species are gray in color. On this expedition we did see one of the highly endangered black rhinoceros, but were unable to get a good picture.
The southern white rhinoceros is by far the most common subspecies of any rhino. Southern white rhinoceros from South Africa, as well as eastern black rhinoceros from much closer, were introduced to this spot after Lake Nakuru National Park was declared a rhino sanctuary in 1983. The northern white rhinoceros, the other subspecies of white rhino, livng approximately a thousand miles northwest of Nakuru (less than half the distance from the park to South Africa) is probably extinct.
For more information, and another image of white rhinos, go to the page for our The Horn Section image.
rev: 2/2020
Photographic details: Nikon F3 35mm Film SLR with a Tokina 100-500mm f/5.6 telephoto zoom. Negatives scanned by Photo Pro.
To order a print of this image, hit the button to the left. Before you do, you may want to check the maximum size estimates or what's currently in stock below. Each item in stock has its own order button.
| Print details: maximum size | Medium | Printed | Estimated |
| --- | --- | --- | --- |
| | Fine Art Paper | 17" x 11" | 25" x 16" |
| | Canvas | N/A | 33" x 22" |
Currently In Stock
Although we can print to your specifications any size up to the above limits to the nearest 1/16" with any mat and moulding combinations, the below prints are available immediately:
Print Number
Description
Price (includes sales tax & shipping)
Matted:
#2
matted 15"x11" print, black inside York (tan) mats (outside 20"x16")
$107