Stormy Sunset
Shark River Slough, the Everglades, Florida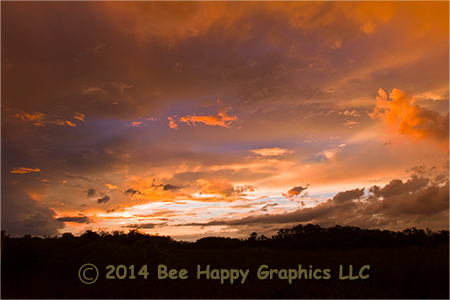 This single photograph was taken just west of the Shark Valley entrance to Everglades National Park (about 40 miles west of Miami on Tamiami Trail (US-41)). It was taken just three minutes before the composite photograph God's Artistry was started and covers about the same area as the leftmost part of that image. It is more suitable for those cases needing a more standard aspect ration rather than a long panorama.
For more information, check out:
God's Artistry

This image was taken just 4% of the way through civil twilight. Photographic details: Canon EOS 7D camera w/ EF 16-35mm f/2.8L USM lens set at 16mm. Camera was set on Shutter Priority with shutter speed 1/5 sec at ISO 200, resulting in an aperture of f/22. Exposure was decreased one-and-a-half stops in post-processing (to match "God's Artistry").
To order a print of this image, hit the button to the left. Before you do, you may want to check the maximum size estimates below.
| Print details: maximum size | Medium | Printed | Estimated |
| --- | --- | --- | --- |
| | Fine Art Paper | 10" x 15" | 17" x 26" |
| | Canvas | N/A | 25" x 38" |
Currently In Stock
Although we can print to your specifications any size up to the above limits to the nearest 1/16" with any mat and moulding combinations, we presently have none of these in stock.