Roseate Spoonbills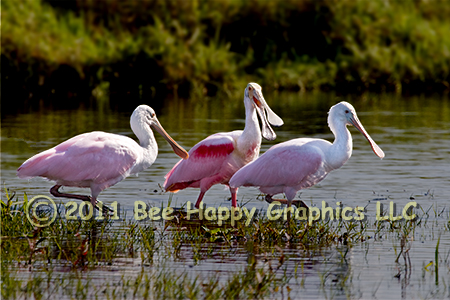 This was a nice spot. We led Nancy's high-school camping club on about a three-mile canoe trip from the launch site of the state park downstream to the "Deep Hole". When we got there, there must have been at about a hundred alligators, a small flock of Wood Storks, several diving Forster's Terns, an Osprey catching fish right next to us, and maybe a dozen Roseate Spoonbills (Platalea ajaja). We were all excited. The spoonbills let us get close enough to take this picture, but no closer. Here a breeding adult scolds a couple of first-year birds.
To order a print of this image, hit the button to the left. Before you do, you may want to check the maximum size estimates or what's currently in stock below. Each item in stock has its own order button.
Getting Close
As implied above, spoonbills in the wild are generally hard to get too close to. Fortunately, Nancy had three things in her favor:
She is sitting in the front of a canoe, so her profile is much smaller and less intimidating than that of somebody, say 6'3" tall, casually walking up to them.
When you are in a canoe, you can use the wind or current to your advantage. Paddle to a spot upwind (or upstream) and then drift toward them slowly. You should be able to get much closer before they realize what's happening. Of course, you should be taking pictures the whole time because you never know when your luck will run out. But have the stern paddler watch for early signs of stress. Before you invade their comfort zone, you can paddle back upwind and try again.
Not to overlook the obvious, Nancy does have a nice lens. With some wildlife, however, the lens alone is often not enough to get a good shot; you need to look for other advantages.
These techniques have also been used with other wildlife.
Photographic details: Canon EOS 30D camera w/ EF 100-400mm f/4.5-5.6L IS USM lens set at 400mm. Flash was not used. Camera was on f/13 for 1/500 sec (shutter priority) at ISO 500.
| Print details: maximum size | Medium | Printed | Estimated |
| --- | --- | --- | --- |
| | Fine Art Paper | 12" x 18" | 25" x 34" |
| | Canvas | 24" x 36" | 33" x 45" |
Currently In Stock
Although we can print to your specifications any size up to the above limits to the nearest 1/16" with any mat and moulding combinations, the below prints are available immediately:
Print Number
Description
Price (includes sales tax & shipping)
Matted:
#44
matted 11"x15" print, pink inside black mats (outside 16"x20")
$110
#46
matted 11"x15" print, pink inside white mats (outside 16"x20")
$110
Framed:
#11N
Paper
framed 11"x17", black inside pink mats, white frame (outside 201/2"x261/2")
$224
#39
framed 111/2"x161/4", pink inside white mats, reddish driftwood frame (outside 20"x243/4")
$224
Canvas:
#7N
Canvas
gallery-wrapped 24"x36"x11/2"
$585
#43
gallery-wrapped 24"x36"x11/2" with 30° bevel (outside 251/2"x371/2")
optimal (illusion) viewing distancedefined 52"
$610
#42
gallery-wrapped 12"x18"x3/4"
$204
We used to have a different numbering system for prints on fine art paper than for print on canvas, as described in our blog post We've Changed Our Numbering System Again. For the Roseate Spoonbills, the consolidated numbering system began at #21 (after 11 paper prints and 9 canvas prints had been made).