Solitude In The Badlands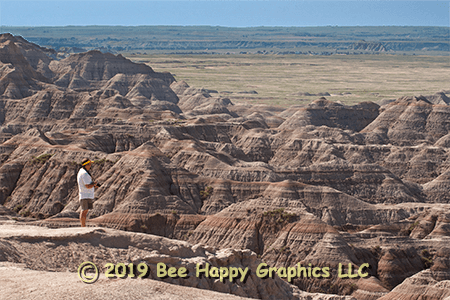 Nancy took this photograph while on our last Sea Explorer summer expedition a few years before she retired as a teacher. On that 40-day trip, we traveled almost 8,600 miles while passing through 14 states and one Canadian province on the way from Miami to Vancouver Island and back. We visited ten national parks (six of them Canadian) and ten state or provincial parks (six of them in the U.S). Those statistics were typical for those summer expeditions. Nancy has driven scouts from Miami to Alaska four different summers. Her longest scout trip, to the arctic ocean, lasted 58 days.
Badlands National Park became our 38th National Park when established in 1978, after 39 years as a national monument. There are now 62 national parks, and counting. Badlands National Park protects almost a quarter-million acres of sharply eroded bluffs and pinnacles. It also contains the United States' largest undisturbed mixed-grass prairie, not to mention some beautiful views.
Photographic details: Canon EOS 20D camera w/ EF 100-400mm f/4.5-5.6L IS USM lens set at 100mm. Flash was not used. Camera was on f/11 for 1/640 sec at ISO 400. Exposure was increased 0.5 stops in postprocessing.
To order a print of this image, hit the button to the left. Before you do, you may want to check the maximum size estimates below.
| Print details: maximum size | Medium | Printed | Estimated |
| --- | --- | --- | --- |
| | Fine Art Paper | 10" x 15" | 11" x 161/2" |
| | Canvas | N/A | 16" x 24" |
Currently In Stock
Although we can print to your specifications any size up to the above limits to the nearest 1/16" with any mat and moulding combinations, we presently have none of these in stock.