Scouting Polar Bear
Churchill Wildlife Management Area, Manitoba, Canada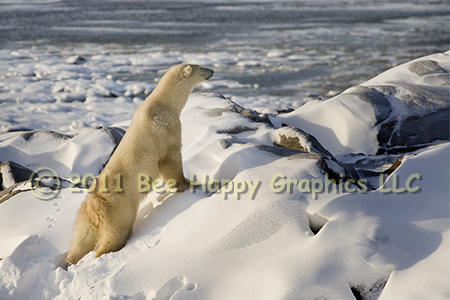 This polar bear appears to be scouting the horizon, impatient for the ice to freeze so it can hunt seals. It hasn't eaten anything of substance for a couple months. Polar bears are the most carnivorous of all bears. Most of their diet consists of ringed and bearded seals, and they lose weight when they are not on the ice. It has been reported that a polar bear can smell a seal twenty miles away.
To order a print of this image, hit the button to the left. Before you do, you may want to check the maximum size estimates or what's currently in stock below. Each item in stock has its own order button.
Photographic details: Canon EOS 30D camera w/ EF 100-400mm f/4.5-5.6L IS USM lens set at 400mm. Flash was not used. Camera was set for 1/800 sec on shutter priority with +2/3 stop exposure compensation, resulting in an aperture of f/10 at ISO 400.
| Print details: maximum size | Medium | Printed | Estimated |
| --- | --- | --- | --- |
| | Fine Art Paper | 11" x 14" | 12" x 151/2" |
| | Canvas | N/A | 15" x 19" |
Currently In Stock
Although we can print to your specifications any size up to the above limits to the nearest 1/16" with any mat and moulding combinations, the below prints are available immediately:
Print Number
Description
Price (includes sales tax & shipping)
Matted:
#1
matted 11"x14" print, black inside off-white mats (outside 16"x20")
$90