Royal Terns
Seahorse Key (off Cedar Key), Florida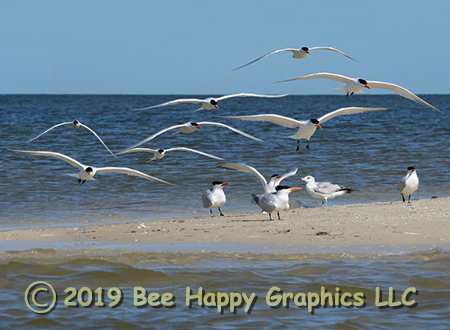 The Royal Tern (Thalasseus maximus) is the second largest tern behind the Caspian Tern (Hydroprogne caspia). They inhabit the warmer coastal areas of the Americas; those on the west coast of Africa were just recently determined to be a different species. Their nest is a shallow depression in the sand that may have a sparse lining of debris. The parents defecate around the perimeter of the nest to harden it against flooding. All of the chicks leave their nest within a couple days to join the creche, which could include thousands of other chicks. The parents bring food to the creche for their offspring only.
The non-conformist in the crowd, with its pale bill and legs, refusing to keep its body into the wind, appears to be a Ring-billed Gull (Larus delawarensis). The astute viewer might also notice a Sandwich Tern (Thalasseus sandvicensis) in the mix. A little smaller than the Royal Tern, that tern often nests alongside Royal Terns in busy colonies.
We captured this image from the canoe on the northeast tip of Seahorse Key before starting our return trip to Cedar Key after getting photographs of the Seahorse Key lighthouse. The wind had been fairly calm all day, but picked up on the way back in the late afternoon until we found ourselves in the trough of more than a one-foot chop. I wound up capsizing our new canoe while trying to shift some weight to better handle the conditions. As a consolation prize, Nancy got to upgrade her camera and lens. For more information about that trip, check out Our Latest (Toughest) Canoe Trip.
Photographic details: Canon EOS 7D Mark II camera w/ EF 100-400mm f/4.5-5.6L IS USM lens set at 260mm. Flash was not used. Camera was set for f/16 on aperture priority with -1/3 stop exposure compensation, resulting in a shutter speed of 1/320 sec at ISO 250.
To order a print of this image, hit the button to the left. Before you do, you may want to check the maximum size estimates or what's currently in stock below. Each item in stock has its own order button.
| Print details: maximum size | Medium | Printed | Estimated |
| --- | --- | --- | --- |
| | Fine Art Paper | 11" x 15" | 21" x 32" |
| | Canvas | 24" x 36" | 33" x 50" |
Currently In Stock
Although we can print to your specifications any size up to the above limits to the nearest 1/16" with any mat and moulding combinations, the below prints are available immediately:
Print Number
Description
Price (includes sales tax & shipping)
Matted:
#1
matted 11"x15" print, black mat (outside 16"x20")
$85
Canvas:
#2
gallery-wrapped 24"x36"x11/2" with 30° bevel (outside 251/2"x371/2")
optimal (illusion) viewing distancedefined 52"
$610
#4
gallery-wrapped 12"x18"x3/4"
$204