Popeyed Scorpionfish
Durban, South Africa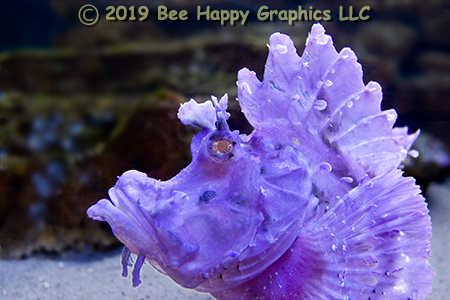 The Popeyed Scorpionfish (Rhinopias frondosa), a.k.a. weedy scorpionfish or just weed fish, lives in the West Pacific and Indian Oceans from Japan south to Australia and west to South Africa. This one was in an aquarium at Ushaka Marine World in Durban. They grow to nine inches in length, and are highly variable in color and the appearance of appendages. In the wild, they are found on the bottom from about 40 to 300 feet deep. Those living in rocky, algae-covered areas have more elaborate and more numerous weedy appendages, while those living on deeper soft bottoms (with soft corals and sponges) have fewer appendages. Colors include dark red, purple, yellow, and/or lavender. Their appearance varies so much that they could be confused with one of two related species, Rhinopias eschmeyeri (Eschmeyer's scorpionfish or Paddle-flap scorpionfish) or Rhinopias aphanes. Like most scorpionfish, they don't swim much, instead pushing themselves along the bottom with their fins. They are ambush predators feeding mostly at night.
Photographic details: Canon EOS 20D camera w/ EF 16-35 f/2.8 L USM autofocus lens set at 23mm. Flash was not used. Camera was set Auto Mode, resulting in an aperture of f/3.5 for 1/50 sec at ISO 800.
To order a print of this image, hit the button to the left. Before you do, you may want to check the maximum size estimates or what's currently in stock below. Each item in stock has its own order button.
| Print details: maximum size | Medium | Printed | Estimated |
| --- | --- | --- | --- |
| | Fine Art Paper | 10" x 15" | 11½" x 17½" |
| | Canvas | N/A | 18½" x 28" |
Currently In Stock
Although we can print to your specifications any size up to the above limits to the nearest 1/16" with any mat and moulding combinations, the below prints are available immediately:
Print Number
Description
Price (includes sales tax & shipping)
Matted:
#1
matted 10"x15" print, white mat inside black mat with V-groove (outside 14"x19"

requires non-standard frame

)
$93