Giant Panda in Tree
Bifengxia Panda Base, Ya'an, China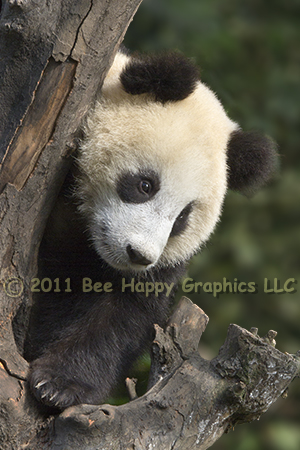 The main reason we went to China was to get photographs of pandas. Unfortunately, there are only about a thousand left in the wild and it is no longer possible to view them there. The China Conservation and Research Center for the Giant Panda, located at Bifengxia Panda Base, is engaged in reproduction research on almost thirty giant pandas. They are about 98% effective in raising baby pandas to adulthood, and within fifteen years they hope to be able to reintroduce the pandas back to the wild.
This is one of two photographs we have published from this research base that day. This panda was two years old. The other photograph, Giant Panda Eating is of a mature adult. For a little more information about that trip, check out "Red Panda" Added To Website.
Photographic details: Canon EOS 7D camera w/ EF 100-400mm f/4.5-5.6L IS USM lens set at 250mm. Flash was not used. Camera was set at f/11 on aperture priority, resulting in shutter speed of 1/250 sec at ISO 1000.
To order a print of this image, hit the button to the left. Before you do, you may want to check the maximum size estimates or what's currently in stock below. Each item in stock has its own order button.
| Print details: maximum size | Medium | Printed | Estimated |
| --- | --- | --- | --- |
| | Fine Art Paper | 15" x 11" | 161/2" x 12" |
| | Canvas | N/A | 22" x 16" |
Currently In Stock
Although we can print to your specifications any size up to the above limits to the nearest 1/16" with any mat and moulding combinations, the below prints are available immediately:
Print Number
Description
Price (includes sales tax & shipping)
Matted:
#5
matted 15"x11", black mat (outside 20"x16")
$85
Framed:
#4
framed 14"x11" print, black mat inside white mat with black core and 2 V-grooves, black frame (outside 221/4"x191/4")
$198