Bosom Buddies
Florida manatees in Crystal River, Florida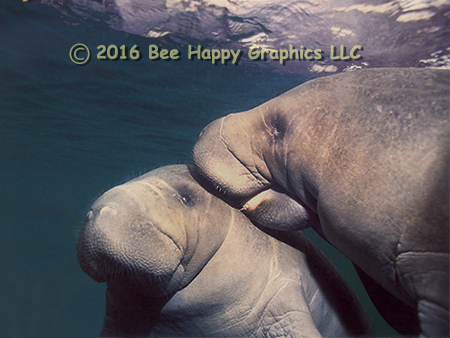 This picture was taken in January, 1995 on a trip to the Crystal River with our Sea Explorer group. The water was cold by Floridian standards, which is why the Florida manatee (Trichechus manatus latirostris) were there in the 72° spring-fed water. These manatees have been endangered for many years due to loss of warm-water habitat and vessel strikes.
Photographic details: Nikon F3 35mm SLR (film camera) with a Nikor 20mm lens in an Ikelite underwater housing using Kodak slide film. Scanned with HP Scanjet 4800.
To order a print of this image, hit the button to the left. Before you do, you may want to check the maximum size estimates or what's currently in stock below. Each item in stock has its own order button.
| Print details: maximum size | Medium | Printed | Estimated |
| --- | --- | --- | --- |
| | Fine Art Paper | 12" x 16" | 131/2"x18 |
| | Canvas | 121/2"x171/4" | 18"x241/2" |
Currently In Stock
Although we can print to your specifications any size up to the above limits to the nearest 1/16" with any mat and moulding combinations, the below prints are available immediately:
Print Number
Description
Price (includes sales tax & shipping)
Matted:
#4
matted 11"x15" print, "Putty" inside "Pewter" mats (outside 16"x20")
$104
#10
matted 11"x15" print, black mat (outside 16"x20")
$84
Framed:
unnumberedM
framed 5"x7" print, "Pewter" mat, dark driftwood frame (outside 101/4"x121/4")
$46
#6
framed 12"x16", "Putty" inside "Pewter" mats, dark driftwood moulding (outside 201/4"x241/4")
$231
#9
framed 12"x16", black inside "Jaws" (light blue) mats, black moulding (outside 20"x24")
$231
Canvas:
#7 & #8
gallery-wrapped canvas 121/2"x171/4"
$199
Prints below a certain size are not part of our numbering system and will not be numbered and signed (although Nancy has signed other images upon request). This includes our Photo Note Cards and Small Matted Prints. Our current policy is explained in the Prints section of our Products page.