Golden Silk Spider
Highlands Hammock State Park, Sebring, Florida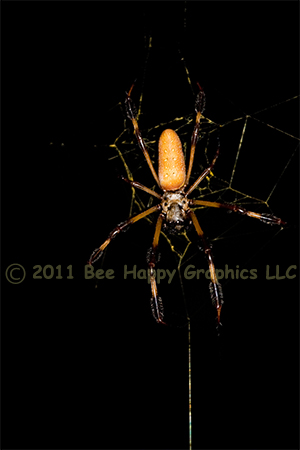 We were leading Nancy's high school camping club on a three-day adventure. As is customary, we took these students on a hike the first night after dinner. Golden silk spiders (Nephila clavipes) get their name from the color of their silk, not their bodies. They are also called golden orb-weavers or banana spiders. This species can be found from North Carolina through Louisiana. The much-larger females (about two inches for the body alone) usually eats its mate.
Photographic details: Canon EOS 20D camera w/ EF 100-400mm f/4.5-5.6L IS USM lens set at 400mm. Flash was used. Camera was on f/5.6 for 1/60 sec at ISO 400.
To order a print of this image, hit the button to the left. Before you do, you may want to check the maximum size estimates or what's currently in stock below. Each item in stock has its own order button.
| Print details: maximum size | Medium | Printed | Estimated |
| --- | --- | --- | --- |
| | Fine Art Paper | 14" x 11" | 181/2" x 13" |
| | Canvas | N/A | 241/2" x 17" |
Currently In Stock
Although we can print to your specifications any size up to the above limits to the nearest 1/16" with any mat and moulding combinations, we presently have none of these in stock.