Foggy Sunrise
Ten Thousand Islands National Wildlife Refuge, Goodland, Florida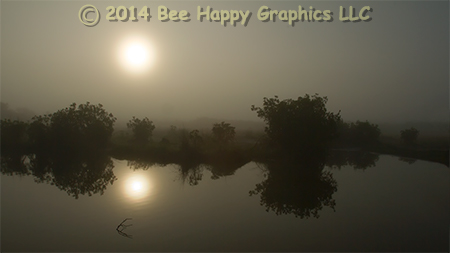 We were on an overnight exploratory trip to the southwest part of the state. We arrived at this refuge before sunrise to watch the sun rise through the fog.
Photographic Note: Some photographers might simulate a reflection in an image by just adding a second copy of the image, flipped and maybe blurred or otherwise slightly altered. Be suspicious if the two parts look too similar.
For more information, check out the following blog posts:
What's Wrong With This Picture (Version 2)? and Reflections - My Answer To "What's Wrong . . . Ver. 2".
Display Note: I've noticed that in this image with a mild intensity gradient in the sky (and its reflection), the sky sometimes appears as bands of color with visible edges instead of a smooth, continuous sky. This is due to a limitation of the display equipment, not the image, and may be noticeable in other images as well. As you could see in our booth, the version printed on fine art paper is beautiful, as one printed on canvas would be, if you prefer.
Photographic details: Canon EOS 7D camera w/ EF 16-35 f/2.8 L USM autofocus lens set at 16mm. Camera was on f/22 for 1/500 sec at ISO 250.
To order a print of this image, hit the button to the left. Before you do, you may want to check the maximum size estimates or what's currently in stock below. Each item in stock has its own order button.
| Print details: maximum size | Medium | Printed | Estimated |
| --- | --- | --- | --- |
| | Fine Art Paper | 10" x 15" | 14" x 25" |
| | Canvas | N/A | 21" x 37" |
Currently In Stock
Although we can print to your specifications any size up to the above limits to the nearest 1/16" with any mat and moulding combinations, we presently have none of these in stock.