Pine Ridge Cockleshell Orchid
Pine Ridge Orchids, Homestead, Florida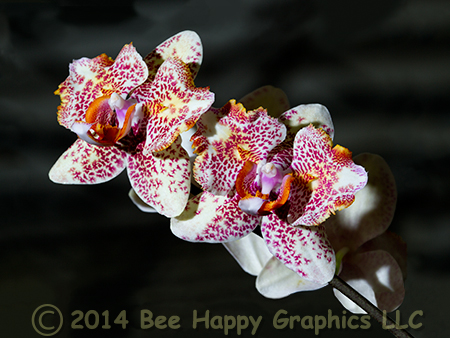 Phalaenopsis Center Stage 'Pine Ridge Cockleshell' AM/AOS was produced by Terry Glancy, who owns Pine Ridge Orchids in Homestead, Florida. We met him on a field trip to his home with the Dade Chapter of the Florida Native Plant Society. Besides his home and nursery, the property includes 15 acres of Pine Rockland, for which he and his wife, Barbara, began the difficult restoration process shortly after purchasing in 1978. Very impressive. After the field trip we found this orchid in the nursery.
Cockleshell's parents were Liu Tuen and Shen X Alida. Mr. Glancy bloomed out a lot of the seedlings he received from John Ewing, who originated that cross in California in 1988, until he found one that produced semi-peloric flowers. He says the clones turned out to be very stable.
To order a print of this image, hit the button to the left. Before you do, you may want to check the maximum size estimates or what's currently in stock below. Each item in stock has its own order button.
Photographic details: Canon EOS 7D camera w/ EF 100-400mm f/4.5-5.6L IS USM lens set at 190mm. Flash was used. Camera was on f/11 for 1/180 sec at ISO 200.
| Print details: maximum size | Medium | Printed | Estimated |
| --- | --- | --- | --- |
| | Fine Art Paper | 12" x 16" | 231/2" x 31" |
| | Canvas | N/A | 31" x 411/2" |
Currently In Stock
Although we can print to your specifications any size up to the above limits to the nearest 1/16" with any mat and moulding combinations, the below prints are available immediately:
Print Number
Description
Price (includes sales tax & shipping)
Matted:
#5
matted 12"x15" print, black mat (outside 16"x19"

requires non-standard frame

)
$91
#6
matted 11"x15" print, white mat (outside 16"x20")
$85
Framed:
#3
framed 12"x16", purple inside white mats, "Dark Mahogany" frame (outside 211/2"x251/2")
$233
#4
framed 12"x16", yellow inside white mats, "Espresso Walnut" frame (outside 211/2"x251/2")
$233