Sun Setting in a Baobab Tree
Tarangire National Park, Tanzania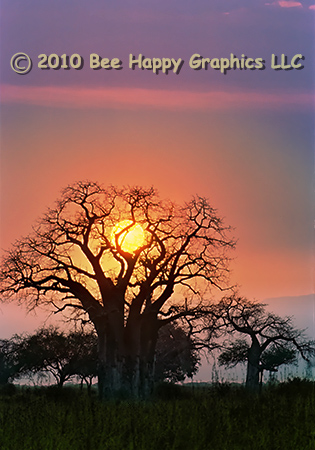 We spent two weeks in Tanzania at the beginning of a month-long tour with Cheeseman's Ecology Safaris. Baobab trees, some of which are thousands of years old, can approach heights of almost one hundred feet, with a circumference even larger - the largest of any tree. It is said that poachers often live inside of them. After this picture was taken, we had to race to get out of the park before it closed. After dark, park rangers are known to shoot first, ask questions later.
Photographic details: Nikon F3 35mm Film SLR with a Tokina 100-500mm f/5.6 telephoto zoom. Negatives scanned by Photo Pro.
To order a print of this image, hit the button to the left. Before you do, you may want to check the maximum size estimates or what's currently in stock below. Each item in stock has its own order button.
| Print details: maximum size | Medium | Printed | Estimated |
| --- | --- | --- | --- |
| | Fine Art Paper | 15" x 11" | 24" x 161/2" |
| | Canvas | N/A | 32" x 221/2" |
Currently In Stock
Although we can print to your specifications any size up to the above limits to the nearest 1/16" with any mat and moulding combinations, the below prints are available immediately:
Print Number
Description
Price (includes sales tax & shipping)
Matted:
#3
matted 15"x11" print, cranberry inside curry (yellow) mats (outside 20"x16"
$111
Framed:
#2
framed 14"x11", curry inside cranberry mats, "Dark Mahogany" frame (outside 231/2"x201/2")
$199