Anhinga with Fish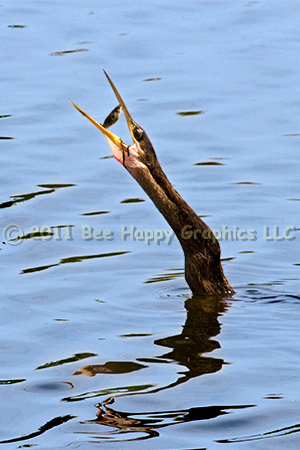 Green Cay Wetlands and nearby Wakodahatchee Wetlands can be great places to photograph birds. Anhingas (Anhinga anhinga) are hard to catch fishing. They submerge for a few minutes and then pop up somewhere completely different. If they have a fish, it can be gone in a flash. This Anhinga, with its buff neck, can be either a female or an immature bird. Males have a black neck.
Photographic details: Canon EOS 30D camera w/ EF 100-400mm f/4.5-5.6L IS USM lens set at 400mm. Flash was not used. Camera was set for f/18 on aperture priority with no exposure compensation, resulting in a shutter speed of 1/640 sec at ISO 800.
To order a print of this image, hit the button to the left. Before you do, you may want to check the maximum size estimates below.
| Print details: maximum size | Medium | Printed | Estimated |
| --- | --- | --- | --- |
| | Fine Art Paper | 14" x 11" | 161/2" x 12" |
| | Canvas | N/A | 191/2" x 14" |
Currently In Stock
Although we can print to your specifications any size up to the above limits to the nearest 1/16" with any mat and moulding combinations, we presently have none of these in stock.