Alone In The Arctic
Dalton Highway, Alaska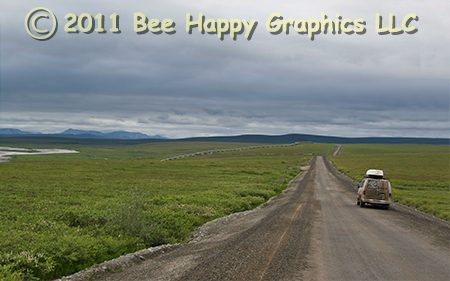 This image is formerly known as "Following the Pipeline on the North Slope of Alaska."
Nancy captured this image on her fourth scout trip to Alaska in 2005. We got all the way to Prudhoe Bay on that trip (well beyond the Arctic Circle), where five of the eight of us jumped into the 34-degree Arctic Ocean. Nancy, of course, took pictures. We were back on the North Slope heading south on the 414-mile unpaved Dalton Highway when Nancy just decided to stop and take this picture. The Sagavanirktok River is to the far left, the Trans-Alaska Pipeline is between it and the road, the Brooks Range is in the distance, and tundra is everywhere else. It is just after noon. Notice the traffic (the van is ours).
Nancy's first scout trip to Alaska was in 1977. I didn't meet her until 1979 in Miami, but was, coincidentally, also on the ALCAN Highway the summer of 1977. That was just after the Alaskan pipeline was finished, and most of the roads to and within Alaska sucked (even the paved ones). Since then, most of them have been civilized. Not the Dalton Highway. We lost two tires on that road on the 2005 trip.
rev: 2/2021
To order a print of this image, hit the button to the left. Before you do, you may want to check the maximum size estimates or what's currently in stock below. Each item in stock has its own order button.
Photographic details: Canon EOS 20D camera w/ EF 16-35mm f/2.8L USM lens set at 33mm. Flash was not used. Camera was on f/7.1 for 1/200 sec at ISO 100.
| Print details: maximum size | Medium | Printed | Estimated |
| --- | --- | --- | --- |
| | Fine Art Paper | N/A | 13" x 201/2" |
| | Canvas | N/A | 17" x 271/2" |
Currently In Stock
Although we can print to your specifications any size up to the above limits to the nearest 1/16" with any mat and moulding combinations, the below prints are available immediately:
Print Number
Description
Price (includes sales tax & shipping)
Matted:
#1
matted 8"x16" print, black mat (outside 16"x20")
$66