Petals Of Pink
South Miami, Florida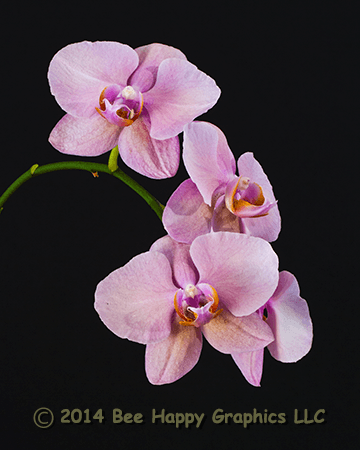 Phalaenopsis orchids like this are commonly called "moth orchids", allegedly because the 18th-century botanist Peter Osbeck confused their flowers with a flurry of moths while in Java. In fact, their genus name, Phalaenopsis, actually comes from phalaina, or moth, and opsis, meaning "in appearance". This genus contains about 70 species native to an area from India to China, and southeast to Australia. They are epiphytes (air plants) or lithophytes (growing on or between rocks), with long, coarse roots, short leafy stems, and flat flowers. Their leaves are usually arranged in two rows, and are long and leathery.
Phalaenopsis are considered the easiest orchids to grow. They like low light. Their large flowers last 2 - 6 months and can bloom 3 - 2 times a year.
I believe we got this flower from Nancy's sister, who was a budding orchid fan.
Photographic details: Canon EOS 7D camera w/ EF 100-400mm f/4.5-5.6L IS USM lens set at 120mm. Flash was not used. On manual mode, camera was on f/22 for 8 seconds at ISO 200.
To order a print of this image, hit the button to the left. Before you do, you may want to check the maximum size estimates or what's currently in stock below. Each item in stock has its own order button.
| Print details: maximum size | Medium | Printed | Estimated |
| --- | --- | --- | --- |
| | Fine Art Paper | 15" x 12" | 20" x 16" |
| | Canvas | N/A | 29" x 23" |
Currently In Stock
Although we can print to your specifications any size up to the above limits to the nearest 1/16" with any mat and moulding combinations, the below prints are available immediately:
Print Number
Description
Price (includes sales tax & shipping)
Matted:
#1
matted 15"x12" print, black mat (outside 19"x16"

requires non-standard frame

)
$90