We will give another seven-dollar discount on any print (either Nancy's or yours) on any medium to the person who comes up with the best caption to the below picture. Since this is the first time we've ever tried this, I'm not sure of the best procedure, but here's my plan:
We will accept caption ideas for one month; just enter your caption in a comment to this blog. Then, in another comment to the blog, I will start the voting – one vote per person – just tell me your choice in another comment. After two more weeks, if any entry has three or more votes, the one with the most votes will be the winner. If no entry has that many votes, then I will take an informal survey among my closest family and friends, and pick the winner. The decision of the judges (as defined above) is final and will be published in yet another comment to the blog.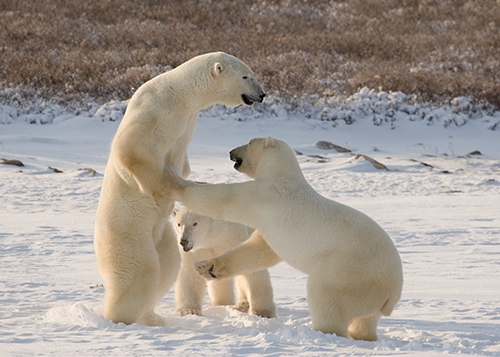 This picture of three polar bears was taken in Churchill, Canada a few years back, and information about it can be found at our "Three Polar Bears" web page. As I mentioned in the description at our "Scouting Polar Bear" page, the polar bears lose weight while they are waiting around Churchill. I envision the one bear saying "Hey, Fred, you're looking a little light there", to which the other might reply "Of course! I haven't found a photographer in weeks". I shared that in the hopes of stimulating your creativity; if instead, I stifled your creativity, that would be bad – please let me know.
Good luck, and let the contest begin!